October 6, 2011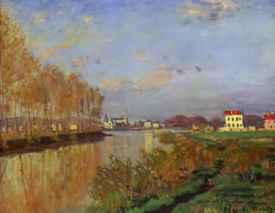 the Seine is exactly like I wanted it to be

Dr. Kendall's editorial in the
British Journal of Psychiatry
is titled, "
The Rise And Fall Of Atypical Antipsychotics
."
The story of the atypicals and the SGAs ['second-generation antipsychotics'] is not the story of clinical discovery and progress; it is the story of fabricated classes, money and marketing.

His point is that the atypicals aren't really better than the typicals (duh.) Of course he's right, but in being factually accurate he is being deliberately deceitful. Observe: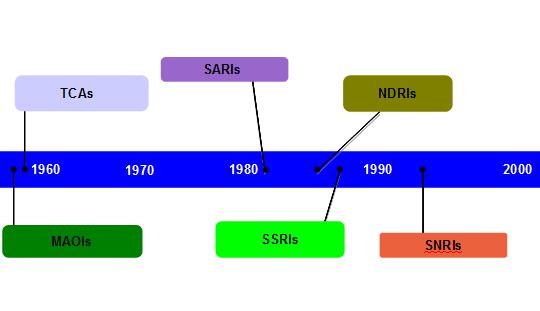 Yes, those are antidepressants. Note the progress from tricyclics. The misleading thing about this timeline is that "tricyclic" is a classification based on chemical structure, while "SNRI" is a classification based on pharmacology. Uh oh, trouble's coming. If you type "tricyclic" into Google Translate and select Pharmacology it comes back with "SNRI." In other words, they're the same. No progress has been made there, either. So what Dr. Kendall is not telling you is that
psychiatry has always done this
. He wants to make it sound like atypicals are some big lie, but
all
of the terms psychiatrists hold as "objective" are less meaningful than any term Freud used. Psychiatry has always been a branding game.
And the simple reason why it is so easy to fool psychiatrists with words like "atypical" and "tricyclic" is that most psychiatrists are stupendously ignorant of even kindergarten-level pharmacology and have barely any idea about how to interpret a study-- I don't mean p values, I mean looking at the
y-axis
; I mean the
introduction
. Much, much easier to base all of their arguments on empty terms that are nothing other than branding choices. Never mind the senseless term "atypical". Gun to head, is Seroquel an "antipsychotic" or an "antidepressant"? Confused? Sometimes a cigar is just a cigar, I guess.
You'll notice that academics never use the brand names of the drugs, always the generic, as if this is more objective, more scientific. Who do you think came up with the generic name? Or is it the capital letter you object to? No: it is all to convey the appearance of scientific objectivity because you have absolutely no idea what the hell you're talking about. "Seroquel is an atypical antipsychotic that is also useful as an adjunct to an existing antidepressant for the treatment of Major Depressive Disorder." How can I "sic" an entire sentence?
Here's an example. He has a full orgasm about a recent study comparing a typical to an atypical that finds no difference in efficacy.
there were no differences on primary outcome measures, including time to remission, time spent in remission and symptom severity, by 12 months and at 9 years' follow-up. Girgis et al clear a little of the fog generated by the mass of cleverly constructed trials and selectively published data supporting a marketing strategy of 'smoke and mirrors' that has underpinned our collective misunderstanding about the so-called atypical antipsychotics.

The typical was Thorazine, and the atypical was Clozaril. Wow! I'm sure he thinks he is being clever comparing "the worst typical" to "the best atypical" and finding them "the same", but that's because he salivates at the chance of using meaningless terms like "best", "worst", "atypical" and "second generation." Thorazine, on any metric of "atypicality"--
serotonin antagonism
, drug potency,
D2 receptor dissociation times
-- is an atypical on the order of Zyprexa, and certainly more atypical than Risperdal or Haldol.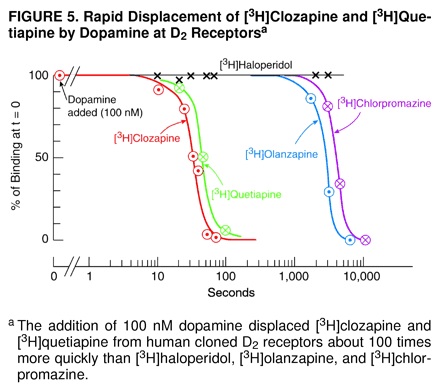 The point is not that Thorazine doesn't cause EPS; the point is that the "subtleties" of these drugs were known in
1999
, if anyone cared to read about them. No one did. Instead they kept repeating the word "atypical" ten million times until it meant something.
To be clear: I am obviously aware of the buried data and the obfuscatory shell games of Big Pharma, but the truth of these medications has been available even without resorting to studies no one would have read anyway. But in order to hide the fact that no one really paid much attention to the actual data that was in front of them (they took the word of the local thought leader and figured that was that) they pretend that the problem is the buried data. "What we need in this country is more news."
"...a marketing strategy of smoke and mirrors..."? What studies did he read that said atypicals were more efficacious than typicals? I realize that the
perception
was that they were better, but anyone who bothered to read the studies could not possibly have been left with that impression.
No one cares about this anymore, but the greatest fraud in all of psychiatry was Depakote, which had the excellent foresight to go generic and get the hell out of the game right before the public turned on Big Pharma and the recession hit. That's the kind of market timing you don't get with any commercially available trading platform. Strong work. Good luck with India. But it's a med that had no evidence backing its efficacy, let alone safety, yet was the cornerstone of every clinical guideline and the lifeblood of most junior faculty looking to pad a CV. If you type "divalproex" into PubMed, it will explode. It was the Holy Grail, and to even spell it wrong resulted in immediate excommunication or a date with the guillotine. Now I can't find one shrink who likes it, hell, I can't find one person who will own up to having prescribed it. 1998-2008: oops? You will observe that Kendall has nothing to say about it either, partly because antiepileptics are no longer prescribed but mostly because it's not fashionable to hate it. The only way to get the populist press to care about a poorly reasoned rant in a British comic book is to include the words "atypical antipsychotics blow." That got your attention. "Well, we were wrong about Depakote, but we were
deceived
about Zyprexa." Have another drink and keep telling yourself that.
II.
Kendall's chief complaint appears to be this:
In creating successive new classes of antipsychotics over the years, the industry has helped develop a broader range of different drugs with different side-effect profiles and potencies, and possibly an increased chance of finding a drug to suit each of our patients. But the price of doing this has been considerable - in 2003 the cost of antipsychotics in the USA equalled the cost of paying all their psychiatrists.

That's a great argument, and as he helps set the government's policies on healthcare it's really the one he should have stuck with. But the solution is right in front of him: restrict the use of medications for all but the necessary cases, and pay the psychiatrists more. Let the shrinks try something else.
I'm not saying this because I'm a psychiatrist. I'm saying it because it is impossible. Impossible because-- and I'm putting this in italics to make it harder for you to unsee it--
the point of the government's policy on psychiatry is to treat all patients as having exclusively organic diseases and not socially generated problems; and medications, regardless of cost, are absolutely necessary to maintain this narrative.
You think because you've discovered the word "atypical" is meaningless, ten years too late, that you've altered the dialectic? Abre los ojos:
The era of industrial psychiatry is only just beginning and it will outlast us all.
It is inevitable
.
What is the significance of... (Below threshold)
Is this the "Psychiatry-Ind... (Below threshold)
I somehow find it easier to... (Below threshold)
"And the simple reason why ... (Below threshold)
I'm going into my tenth y... (Below threshold)
Here is Tim Kendalls email:... (Below threshold)
Antipsychotics don't exist.... (Below threshold)
Great idea.But my ... (Below threshold)
You are right. It is not wo... (Below threshold)
To October 6th, 1:28 AM, P... (Below threshold)
@Perry, In my opinion you n... (Below threshold)
I use generic names because... (Below threshold)
Graph suggests drug inventi... (Below threshold)
Yea, you have never worked ... (Below threshold)
Psychiatrists are always wh... (Below threshold)
re: you have never worked i... (Below threshold)
Anonymous 12:05- you make a... (Below threshold)
"If a client comes in a men... (Below threshold)
Have you ever thought about... (Below threshold)
Alone doesn't have a clinic... (Below threshold)
Let's all protect our egos.... (Below threshold)
I was diagnosed with bipola... (Below threshold)
Tricyclics and SNRI's are n... (Below threshold)
Inevitable — not just becau... (Below threshold)
What about the side effect ... (Below threshold)
1. recycling rd laing does... (Below threshold)
I'm not aware of any new at... (Below threshold)
Good, I agree with your poi... (Below threshold)
is there a way to ask quest... (Below threshold)
was wondering what atypical... (Below threshold)
I tried to look it up for y... (Below threshold)
EPS= Extrapyramidal Symptom... (Below threshold)