December 8, 2012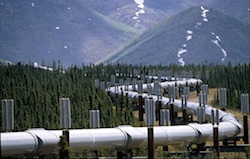 about to reopen?

In a case that could have broad ramifications for the pharmaceutical industry, a federal appeals court on Monday threw out the conviction of a sales representative who sold a drug for uses not approved by the FDA. The judges said that the ban on so-called off-label marketing violated the representative's freedom of speech.

In short: a drug rep is secretly taped, and later convicted, for promoting his drug for off label uses. To be clear: he wasn't convicted of inventing off label uses, he was convicted for discussing off label uses that had already found their way in peer reviewed journal articles.
Let's agree that peer review is the scientific equivalent of Soviet era cronyism; but however terrible it is, it is a million times better than anything the FDA offers. It's worth reminding people that the FDA grants approval for a drug indication not because the drug is effective for that purpose, but because it's effective AND the company requested it. The drug could cure cancer 100% of the time, if the company doesn't ask for it-- if it thinks it's more profitable to pursue an erectile dysfunction indication-- then regardless of how effective it is, it will be off-label.
This case basically confirms that simply discussing off-label uses is not, in itself, illegal.
From the appeals court
ruling
:
While the government and the FDA have construed the FDCA's misbranding provisions to prohibit off-label promotion by pharmaceutical manufacturers... as we have observed, the FDCA itself does not expressly prohibit or criminalize off-label promotion.

And the closer:
As we now explain, we decline the government's invitation to construe the FDCA's misbranding provisions to criminalize the simple promotion of a drug's off-label use by pharmaceutical manufacturers and their representatives because such a construction-- and a conviction obtained under the government's application of the FDCA -- would run afoul of the First Amendment.

II.
It's probably headed to the Supreme Court. Make no mistake, this is a big deal. Forget about "truth" and science and public health: the government collects billions of dollars in fines off of this, not to mention getting a role in Pharma's business, how drugs are marketed and sold-- and there's now a 5/9 chance that all that money and influence will disappear. And if Pharma suddenly gets to do other things with that money AND get a freer hand in marketing, it will almost certainly change the way medicine is practiced.
There are pros and cons, since the cons are obvious and in every blog on the internet I'll offer two of the pros: first, more Pharma research money for off-label uses. A double edged sword, but anything that frees humanity from the dictatorship of the NIH is a good thing.
Second, Pharma would be permitted (it would find it invaluable) to study their drug's
comparative
effectiveness. There's been a disincentive to do this, because even if someone discovered that Zyprexa was a billion times better than Geodon, or better for a certain kind of schizophrenic, Lilly couldn't say anything, it's not in the label. If they discovered a way to lessen the diabetic risk, say mixing it with some other drug or a specific dietary intervention, they couldn't tell anybody. It's not in the label.
Looking back on it all, it seems to me that what got everyone into trouble was doctors' belief that Pharma was telling them everything; and therefore didn't have to look anything up. It's unbelievable to me now, as it was then, that doctors thought this, but there you go.
III.
But you may be interested in the history of this case:
On October 26, 2005, [drug rep] Mr. Caronia went to Dr. Charno's office. He had never met Dr. Charno before, nor had any previous contact with him but for the phone calls from Dr. Charno seeking a promotional speech. During the meeting, Dr. Charno repeatedly asked Mr. Caronia off-label questions and asked to meet Dr. Gleason [a speaker for the company.]

Dr. Gleason eventually came, and, in the presence of Caronia, had a discussion with Dr. Charno about off-label uses for Xyrem (insomnia, restless legs, etc). Is Caronia responsible? Should he have stopped Gleason? The court said yes, and convicted him.
The trick was, Dr. Charno was actually a government informant. That's odd. And I have never heard of a doctor who
requested
a promotional speech. He cold called a rep he had never met and asked to meet him to discuss a drug he had never prescribed?
The third witness presented by the United States Government was the confidential informant, Dr. Steven Charno. After pleading guilty to medical insurance fraud stemming from his criminal act of filing fraudulent medical insurance bills in the amount of $821,000.00, Dr. Charno cooperated with the United States Government against Alfred Caronia.

I thought I was reading the script for a bad cop movie. Did the government use a plea agreement to force Charno to help the government capture drug reps that he had never even met?
Dr. Charno erroneously testified at first that he only called Alfred Caronia to schedule a meeting in which he could request to meet Dr. Gleason. Suspiciously enough, Dr. Charno never recorded the entraping phone calls in which he asked Alfred Caronia to come to his office. However, it became apparent during cross-examination that Dr. Charno had been instructed by Government agents as to the potential off-label uses of Xyrem prior to calling Alfred Caronia and used it to lure him into his office for a promotional presentation.

In other words (and Caronia contends) there was hardly a conspiracy to misbrand Xyrem when it was Charno who asked the off-label questions and specifically requested to meet with Dr. Gleason-- all at the government's request.
That bit reminded me of something, an old story,
2006
, about a Maryland psychiatrist who was famously arrested at a train station for making off-label comments at a speaker "program". What had jumped out at me at that time was his defense:
[The speaker] insists that he is not guilty of conspiracy. He says that he was charged only after he refused to help the government build a case against the drug's maker, Jazz Pharmaceuticals -- a sequence of events that court documents seem to support.

That speaker was Dr. Gleason: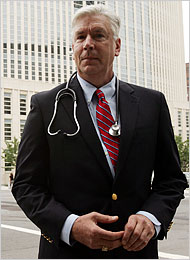 And the man driving him to the very train station where he was arrested was Caronia, after a meeting with Dr. Charno.
So.... Charno was used to get to Caronia, who was used to get to Gleason, so they could get the company.
We know what happened to Caronia. What happened to Gleason?
Dr. Gleason ultimately pled guilty to a misdemeanor of engaging in interstate commerce of a misbranded drug and got 1 year probation. Probation ended January 29, 2011.
He hung himself 10 days later.
hanged. duh.... (Below threshold)
the last psychiatrist is th... (Below threshold)
What are the cons?... (Below threshold)
"He received $450 to visit ... (Below threshold)
that's why you go to school... (Below threshold)
So, I guess, the takeaway i... (Below threshold)
This is fucking mad. An sad... (Below threshold)
More like this, please.... (Below threshold)
Opa Pharma Style. . . . . .... (Below threshold)
anony,I believe Hu... (Below threshold)
well, with all the penis en... (Below threshold)
I don't get the picture tha... (Below threshold)
Of course they just had to ... (Below threshold)
I get it... Dr. Gleason is ... (Below threshold)
Harvey Silverglate, a well-... (Below threshold)
It gets even better. If yo... (Below threshold)
yeah he killed himself. a y... (Below threshold)
Sycophancy, 'phychopancy' a... (Below threshold)
Yeah, yeah. The off-label u... (Below threshold)
What is all of it, Alex?</p... (Below threshold)
Dr. Gleason was from Maryla... (Below threshold)
Hehe, a last psychiatrist b... (Below threshold)
if Pharma can now say whate... (Below threshold)
We should really just try h... (Below threshold)
"Let's agree that peer revi... (Below threshold)
"No, let us not agree anyth... (Below threshold)
My wife used to work at NIH... (Below threshold)
"Let's agree that peer revi... (Below threshold)
yeah, we know what peer rev... (Below threshold)
Fantastic and interesting w... (Below threshold)
thanks for such a wonderful... (Below threshold)
Re-visit your site wonderfu... (Below threshold)
Very powerful post, thank y... (Below threshold)
"Peer Evil – the rotten bus... (Below threshold)
I worry that we are failing... (Below threshold)
Let us not swing back to th... (Below threshold)
Nice article. very interest... (Below threshold)
[url=http://www.softassembl... (Below threshold)