June 10, 2007
Paris Hilton or Mary Winkler? Forensics Gone Awry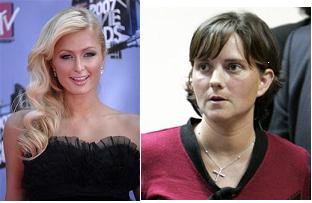 I'll take Paris any day.
So Paris goes back to jail after the behind the scenes/cover of darkness/MK-ULTRA deal she made to get out of jail early was met by the public with consternation.
As near as I can tell, a/her private psychiatrist (his blog here-- mine's better, dammit) visited her for two hours in jail, then made a plea to the sheriff that serving her sentence in jail was psychiatrically harmful to her. So they let her out to serve it at home.
The argument here, of course, is that this is rich-white-girl gets special treatment; and the easiest way to do it is to use psychiatry. And people say, "see? This is they type of abuse we can expect if psychiatry is allowed to influence legal matters."
Fair enough. I don't know Hilton's case, whether it was a appropriate or not, I don't know Dr. Sophy; all I can say is, yes, the potential for abuse exists, but perhaps it is balanced out by the cases in which it is helpful to society.

But consider the reverse situation, and read it carefully because then I'm going to punch someone:

SELMER, Tennessee (AP) -- A woman who killed her preacher husband with a shotgun blast to the back as he lay in bed was sentenced Friday to three years in prison, but she may end up serving only 60 days in a mental hospital.

Mary Winkler must serve 210 days of her sentence before she can be released on probation, but she gets credit for the five months she has already spent in jail, Judge Weber McCraw said.

That leaves only two months, and McCraw said up to 60 days of the sentence could be served in a facility where she could receive mental health treatment. That means Winkler may not serve any significant time in prison.
Same gripe: look how people use psychiatry to manipulate the legal system-- "only two months for killing someone?!" and while I agree that's pretty pathetic, what's worrying me is this: who the hell spends five months in jail without getting a trial?
This probably didn't occur to you, and that's why it still happens. If I kill my preacher husband, I have the right to a speedy trial. If I can't get a speedy trial, I get to pay a fee to be released, and then show up in court when the government gets their act together. But what if I don't have bail money? How can the courts justify indefinite incarceration in the absence of a trial?
Enter psychiatry. You get a psychiatrist to evaluate the person and determine that he is not competent to stand trial. They recommend 60 days involuntary commitment/treatment in a psych hospital in order to "restore them to competency." If at the end of 60 days the evaluator comes back, and if he still thinks they're not competent-- they get (re)committed again. Etc.

Trial competency has very specific requirements: understanding how you wish to plea, the possible sentences, working with your lawyer, etc. Being depressed or psychotic, per se, isn't the determinant-- only if it seriously impacts your ability to, say, understand the charges against you.
But in the vast majority of cases I have been involved in, the report really only reflects the presence of a mental illness, not its impact to the case. As if it is de facto proof of incompetency. It's not.
But here's the move: the "psych hospital" they get involuntarily committed to is actually their cell.
Technically, they are supposed to be committed to an inpatient hospital. Many jails have them on the premises. But if the commitment is for 60 days, and the psychiatrist treating them (i.e. not the evaluator) thinks they are cured, then they get sent back into population (their cell). Maybe they continue on medication; maybe they see the psychiatrist weekly for "outpatient" visits.
Or maybe, maybe, the treating psychiatrist doesn't think they need any treatment. So they spend their commitment in exactly the place they started.
Worse, much worse, is how many people I see that I say are competent and still wind up recommitted for two months. Six months. A year. Think I'm kidding? It is impossible to even estimate how many charts I have read that indicate no psychiatric contact-- not medication, not therapy, not psychiatrist-- for the entire duration of their commitment. And why should there be? The treating psychiatrist doesn't see anything to treat.
You're probably thinking about murderers and rapists; but the majority of these cases are theft, assaults, drug possessions. Can anyone explain to me what possible justification exists for locking up a guy charged with possession for eight months, no trial? And I'll pretend the guy is whacked out of his nut psychotic. Ok? Any justification at all?
I'm not saying you can't sentence him to eight months-- cane him, for all I care; I'm saying you can't jail him for eight months without a trial. Is anyone listening to me?
The system is designed with simply one outcome in mind: keep the poor with high recidivism rates and minimal social resources in jail-- a sort of half-way house for the disenfranchised-- until you can't possibly justify it any longer, and then give them a quick trial, accept the guilty plea ("what guilty plea?") and sentence them to time served and probation-- where you can add further controls.

It's debatable whether keeping potential terrorists in Cuba is a good idea. But when the State starts using pyschiatry to manage their population...

I know you think I am exaggerrating. I'll bet you're not poor.