June 21, 2010
Which Is Healthier: A Dunkin Donuts Bagel, Muffin, or Donut?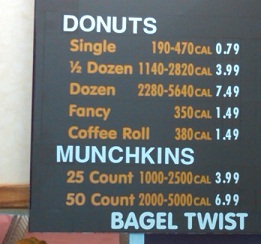 too bad the prices aren't also variable
Bagels:
Dunkin Donuts has a "DDSmart" menu, which means it's healthier. That should be obvious.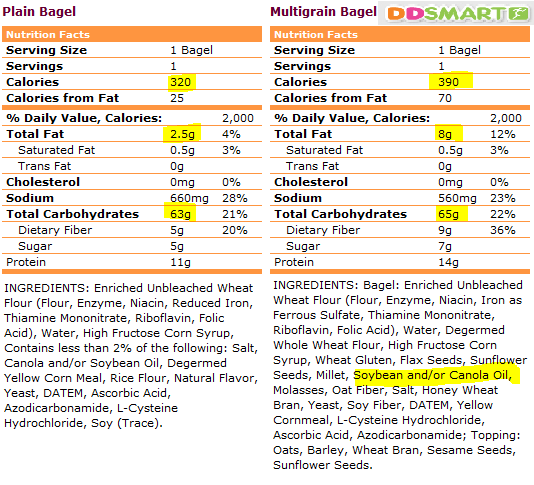 Except that there is nothing about the multigraining which makes it healthier. It has more calories and more fat (due to the oil they need to add to make it soft). They say "reduced fat cream cheese" only adds 100 cal and half the fat (8g) but that's if the cheese is spread by a bee.
Donuts: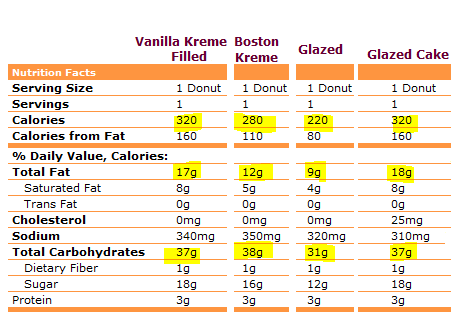 Three points:
No worse than the bagels. More fat, less carbs... you decide.
Anything labeled "cake" or "crumb" should be avoided like the clap. And if it claims to have a fruit in it, get tested for gonorrhea as well. The apple/blueberry crumb has 470 calories, none of which are delicious.

Most of the other donuts (cruller, frosteds, jelly, pudding kremes (boston, bavarian, etc)-- are all about 250 calories.
Munchkins:
Munchkins all look like this: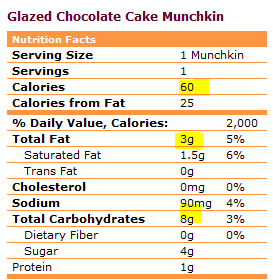 i.e. they are identical in proportions to their adult counterparts. So know thyself: which is more psychologically satisfying, one donut or 5 munchkins?
Muffins:
Muffins are the Matrix's punishment for our arrogance, believing we can make birthday party cupcakes healthier simply by making them larger and renaming them.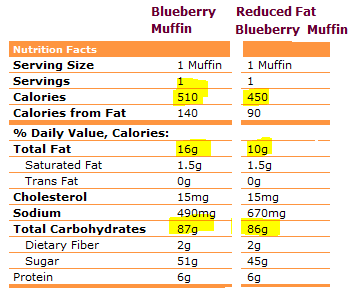 On the positive side, as of October 15, 2007, all DD products were trans fat free.
Cookies:
What I'm about to show you is not suitable for pregnant women or patients recovering from surgery.
Here are the stats on the Triple Chocolate Chunk Cookie, as told by DD (
orange and white
) and an independent site called
Calorie Count
:
If you add up the fat, carbs, and protein, the DD stats equal 72g, and the Calorie Count stats add to 110g. The actual cookie I bought today weighs 140g. So is Dunkin Donuts telling me that the other half of the cookie is water and oxygen?
So I'm going to bake this cookie until it becomes a cracker. Check back tomorrow for the results of the cookie analysis.
--
http://twitter.com/thelastpsych