September 2, 2010
When Was The Last Time You Got Your Ass Kicked?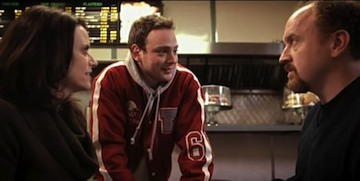 the problem is that the answer is never




On <i>Louie</i>, super-comic Louie CK and a date end up at a late night donut shop. Five teens roll in, obnoxious and expansive, and Louie turns and tells them to keep it down.
One teen comes over and threatens Louie. He does it in the pseudo-friendly, control the conversation way that is 100% the sign of someone trying to size you up; the longer it goes on, the more sure he is.

30 second clip tells you all you need to know:





"Hi, my name is Sean. What's your name?" And extends his hand.
Louie sighs. "Nice to meet you," he says resignedly.
"'Nice to meet you?' Is that your name? 'Nice to meet you?'"
"No, it's Louie."
"Oh, Louie. Hmm. Hi, 'Loo-ey.'" [Smirks.]


Etc. It escalates to threats, "tell me, Louie, how long has it been since you've had your ass kicked?" and ends with the kid forcing Louie to beg: "Please do not kick my ass."

Right before he leaves, the kid says, "that was painful to watch." He's right.


II.

The whole mess is complicated/dominated by the presence of Louie's date. What's a chick going to make of this? The scene concludes: Louie's date says, "mentally I know you did the right thing by not fighting, but emotionally, primally-- that was a turn off. That was pretty humiliating, watching another guy dominate you like that."

Let me amend that: what would a guy think a chick is going to make of this?

III.
Louis CK is prime timingly perceptive about men; but he's way off about women.

On the one hand, you get no points for beating up a 17 year old; on the other hand, points off for getting beaten up by a 17 year old. Using this scoring, Louie should have clocked him. But then there's that whole jail thing.
But there's the secret deduction: points off simply for allowing a teen to bully you for ten minutes.

"Well what would you do?" I'm asked as if what a misanthropic rummy would do and what you should do are even compatible. But they're asking about the date: "I don't want to humiliate myself in front of her. I don't want her to think I'm not a man." Ok, so fight. "Well, I'm being honest here-- I'm not a fighter."

America isn't obsessed with sex and violence; it's obsessed with authenticity (or avoiding it). It just so happens that sex and violence are the only two things that you can't fake, and we keep coming back to them as the definitive "measures of the man." We can fake wealth, intellect, status, kindness, political acumen, parenting, looks-- there's no objective measure of any of these things, a man can construct any identity he wants, people might not buy it but who are they to say? But a fight isn't a matter of opinion, it is too real.

Same with sex. "Listen baby, I'm a great lover." Well, we'll know in fifteen minutes. "Am I a real man?" The response stands.

The anxiety over a fight when your date is right there is that she will find out the truth about your masculinity. You'll take verbal humiliation over a beat down not because it hurts less but because (you think) it lets the question "am I a man?" rest unanswered. Plausible deniability.

IV.
Louis CK went for the dichotomy between what a woman wants intellectually and primally; that even though women may be anti-violence (e.g. Megan Fox) they still feel drawn to dominant men. But Louie got the subtlety wrong. A woman doesn't want the best fighter, she just doesn't want a man who won't stand up for himself.

What would happen if he lost the fight to the 17yo? Would she leave him for the 17yo? Cheat on him with a tough guy some Saturday night? (The cuckold problem.) "I just don't want her to think I'm less of a man."

Listen to the language: "I don't want her to think..." That's the infection of narcissism in the thinking. Don't you think she has her own perspective? Don't you think that she already knows whether you are tough or not? Unless you have a secret identity, she already knows who would win the fight. Do you think you can fool her with words?
If she is a reasonably attractive woman-- defined as not bathing in smallpox-- then all that she gets, all day, is practice appraising men and filtering through their words.
She already knows who you are. That's why she is, or is not, with you, despite your attempts to convince her you are someone else. Losing a fight won't drive her to another man because if it would, she'd already be gone.
V.
The cuckold fantasy is when the girl cheats on her man with better, stronger, more masculine men. The cuckold problem is this: the cuckold fantasy is a male fantasy.
VI.
The question no one ever asks is: how did the 17 year old know he could pick on you? Why do you think he can sense something that your girlfriend can't? Feminist response: "See? Men don't think women can have their own opinions." No, we're not sexist, we're narcissists: it's not about you, it's about us. Men believe they can convince people of their identity-- convince a girl to like them. The whole male grammar is structured like this: get her into bed; get her to go out with me; show her what kind of a person I am. We think we can fool women for the same reason a 3 year old thinks he can manipulate his parents: sometimes they let us because they were going to do it anyway.

You think you can convince her you're tougher than you are, but you worry you can't fool another guy because he "knows" toughness. But why would he know it any better than she? She knows you better than he does; and she knows men-- and posturing and puffing up the chest-- better than either of you. The only person who doesn't know what kind of a person you are is you.

VII.

Disagree if you want, but there's one thing that's indisputable: this whole scenario reads differently if the kid were black. A 17 yo black teen comes up to your table, and it goes from being an ego battle to a felony in progress. You think Louie would have told 5 black teens to keep it down?

Universal agreement: no one would think any less of you for backing down from a 17 yo black teen than if you backed down from a grizzly bear. "Dude, a grizzly bear tried to eat me, so I just gave him my lunch!" The hell you say.

And if you fight-- even if you lose-- no one is going to say, "ha ha, you got beat by a kid!" because everyone knows a 17 year old black kid has the strength of ten men. It's in the Constitution.

You think the cops are going to arrest you for fighting a juvenile?
I'll even go a step further: it would be the exact same if it was a 17 year old black girl.

There's a sense that blacks are violently unpredictable, that's what TV told me, anyway. You know that white kid in the Louie clip isn't going to murder you with the same certainty that you know this black kid might murder you.

While we're at it, we can all agree this would be a completely different scenario if it was a white kid rolling up on a middle aged black man on a date; or a black kid vs. black adult. No matter how equal opportunity you think you are all of those are different. Black kid on white adult is crime/poverty; white kid on black adult is racism; and black on black is "one of those things, you don't get involved." Unless you're black, then you don't have much of a choice.
If you want to know why we see these things differently, check with The Atlantic, they have all the answers that George Bush stole from us to give to Katrina. My purpose in using these scenarios is to lead you to realize that "what would you do if...?" is an impossible question because a situation doesn't happen to you, you are the situation. Louie wasn't the random target, he was chosen. The kid didn't pick on the woman, right? Nor did he threaten an empty chair. In other words, "what would you do if a teen comes up on you?" was already answered by the teen on the way to coming up on you: nothing. There's a chance he could be wrong. But probably not.
VIII.
Go back to Louie. Where did the whole thing go wrong?
An observation about the middle class: they have it deep inside their psyche that though they are taught to make prejudicial judgments based on hearsay, they are not allowed to show that they made them. The middle class think they are lawyers.

That kid was up to no good. You knew it as he walked to Louie's table, even before he opened his mouth. You knew it. But Louie/we were constructed to act only on what happens, not what you think is happening. Since the kid was polite, Louie had to be polite back, even though the kid was obviously being a bully-- you're not allowed to respond to that. "Hey, I was just being friendly!" And prove he wasn't. The kid offers to shake Louie's hand, "Hi, I'm Sean," and Louie has to shake it because so far the kid is being polite. We relate things to our future cross examination: "isn't it true, sir, that sticks and stones can break your bones but names can never harm you?"

Since we're already knee deep in race: back when I lived in various bars in NYC, I frequently saw what I assume to be intelligent people allow what I assume to be dangerous black males come up to them at 2 am and ask them if they knew "the way to get to 44th St." Just for my Danish and German readers who generously donate, here's a geography lesson: Manhattan is a grid, in numerical order. Asking a New Yorker which way is 44th St. is like asking a Florida orange farmer which way is sky. But these white devils were willing to put their lives at risk-- not because they didn't want to appear racist, I saw the same hypnotized compliance when the perp was a white guy-- but because they are amateur lawyers: "he didn't do anything bad to me first." So we follow the script: guy asks for directions= "ten blocks up make a left." Guy pulls a gun= "look, I have 50 bucks, just don't hurt me."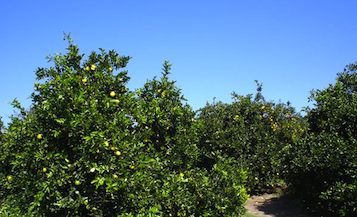 do you mind drawing it on a map?

IX.

The Bully Dialogue-- where they spend ten minutes chatting nicely even though both of you know you're eventually going to get stuffed in a locker-- is another Cognitive Kill Switch, which is about reversing power and dominance. The aggressive "Hi, what's your name, that's a nice shirt you got there" works because you're not willing-- you feel you're not allowed-- to respond to the situation for what it is: a bully trying to dominate the conversation. You feel obligated to reply to their words, and not the meaning. So the bully gets to bully the conversation for ten minutes, after which point it hardly matters whether you get stuffed in a locker or not.

There's a model for everything in childhood. In this case it's when the parent, rather than a direct confrontation (i.e. teach the kid how to be a man) tries to lead and trap the kid, like a jealous woman trying to catch her man in a lie. "So, Tommy, how was school? Anything interesting happen today?" At this moment everyone knows it's a trap. Dad knows what happened, and Tommy knows what happened, and now Tommy knows that Dad knows, but Tommy still has to say, "oh, nothing really, " all the while thinking, "oh, great, I got to play this nutty game now? When I turn 18 I am so outta here."


X.
Back to Louie. When that kid appeared at his table, everyone knew why he was there. So this is how the scene should have gone, though I'll admit it wouldn't have been theatric enough for TV:

"Hi, my name's Sean, what's your name?"
"Get your punk-ass away from me, I don't want to know you."

Now the kid's either going to fight you, or back down-- which is the same thing that was going to happen anyway, but at least you stood up for yourself. She noticed.
---
http://twitter.com/thelastpsych
You should check out the mo... (Below threshold)
The look on her face at 0:0... (Below threshold)
Write a book already. I re... (Below threshold)
Hello. As a guy who's been ... (Below threshold)
"She already knows who you ... (Below threshold)
I agree with Bryan. Write a... (Below threshold)
"Hi, my name's Sean, wha... (Below threshold)
If you look like a pussy, g... (Below threshold)
Not every TLP post, but an ... (Below threshold)
Danish reader here. I appre... (Below threshold)
Ok, lots to say here. Half ... (Below threshold)
Also, I don't agree that if... (Below threshold)
Fritz, nope, it makes you r... (Below threshold)
HKB, like I said, people wh... (Below threshold)
Every racist I've ever know... (Below threshold)
BS."Making a fool ou... (Below threshold)
you got it both right and w... (Below threshold)
Huh? This makes no sense.<... (Below threshold)
You know this is a COMEDY s... (Below threshold)
"Disagree if you want, but ... (Below threshold)
"Disagree if you want, but ... (Below threshold)
In real life you are right,... (Below threshold)
Waaaaaah! TLP is a little... (Below threshold)
Tell me how his statement i... (Below threshold)
I more or less agree with T... (Below threshold)
I don't know where where yo... (Below threshold)
I didn't think the original... (Below threshold)
Ok, so one could argue it's... (Below threshold)
TLP isn't talking about how... (Below threshold)
you've got some broken html... (Below threshold)
How is that not racism?... (Below threshold)
I can recall about a 5 year... (Below threshold)
What's the show's target ma... (Below threshold)
I just revisited the Cognit... (Below threshold)
Anonymous, the stereotypes ... (Below threshold)
you know mr psychiatrist i ... (Below threshold)
Wow, you are wrong on almos... (Below threshold)
There's probably nothing th... (Below threshold)
Bullies play on the fear of... (Below threshold)
I agree Louie should have s... (Below threshold)
I really liked this article... (Below threshold)
"Get your punk-ass away fro... (Below threshold)
hey anon above me you are a... (Below threshold)
Right......nothing says "I'... (Below threshold)
Steve, you are obviously al... (Below threshold)
Some related and unrelated ... (Below threshold)
Too much tough talk on the ... (Below threshold)
"The cuckold fantasy is whe... (Below threshold)
"The cuckold fantasy is whe... (Below threshold)
Joe--Two words- "whi... (Below threshold)
Note:The dread-loc... (Below threshold)
"you are the situation."<br... (Below threshold)
"So what if he has death an... (Below threshold)
I'm a man, I don't need to ... (Below threshold)
Are you addressing me? I h... (Below threshold)
This happened in the 1970's... (Below threshold)
wisegirl I think men should... (Below threshold)
Shut up woman, you don't ge... (Below threshold)
Yes, you are correct women ... (Below threshold)
very aggressive men are jus... (Below threshold)
anyway, personally, I like ... (Below threshold)
Snooki can do no wrong.... (Below threshold)
Is Steve for real?... (Below threshold)
Not sure if anyone has read... (Below threshold)
What if the woman is the na... (Below threshold)
Right......nothing says ... (Below threshold)
Louis CK rattled off a bunc... (Below threshold)
I watched the episode - ver... (Below threshold)
No, it doesn't, really. It ... (Below threshold)
Why do they always have guy... (Below threshold)
@ Local"So, no, evol... (Below threshold)
Well, personally after obse... (Below threshold)
I'm surprised this hasn't b... (Below threshold)
First, all the people comme... (Below threshold)
I read this comment in napo... (Below threshold)
A few thoughts...1) ... (Below threshold)
Steve - Your constant use o... (Below threshold)
dude I don't sit around hav... (Below threshold)
I would never, never, start... (Below threshold)
also fucking stop saying st... (Below threshold)
I think a certain degree of... (Below threshold)
"Women don't like hyper mas... (Below threshold)
And again we observe someon... (Below threshold)
Oh and if Steve isn't a tro... (Below threshold)
Don't feed the troll... (Below threshold)
today I don't feel like eat... (Below threshold)
I'm going to eat feces inst... (Below threshold)
IF, indeed, Steve isn't a t... (Below threshold)
Compare Louie to Walt's rea... (Below threshold)
"And again we observe someo... (Below threshold)
It has been shown over and ... (Below threshold)
"It's been shown over and o... (Below threshold)
Same anon as above...... (Below threshold)
Good post, but TLP left out... (Below threshold)
Loatheb loatheb loatheb....... (Below threshold)
Or we have people who claim... (Below threshold)
Masculine is a word ... (Below threshold)
"I pathetically fall back o... (Below threshold)
looking back, have you noti... (Below threshold)
"someone", the negative ste... (Below threshold)
Ya know, there's a big diff... (Below threshold)
Adults behave like adults a... (Below threshold)
Also I love how you call me... (Below threshold)
louie was pretending to be ... (Below threshold)
someone is ghostwriting for... (Below threshold)
"someone", the negative ste... (Below threshold)
"I have no interactions wit... (Below threshold)
Someone has revealed himsel... (Below threshold)
Agreed. If "someone" has no... (Below threshold)
Steve,I'm not gett... (Below threshold)
great lengths = posting on ... (Below threshold)
saying women want manly men... (Below threshold)
Actually, if you say "women... (Below threshold)
Actually, great lengths = r... (Below threshold)
yeah, I have that aura too,... (Below threshold)
girls desire manly men and ... (Below threshold)
Steve, as a woman who has k... (Below threshold)
In Russia there are hordes ... (Below threshold)
The proper response would b... (Below threshold)
HKB: "So you acknowledge th... (Below threshold)
hkb I think you have a fuck... (Below threshold)
Having politely asked the y... (Below threshold)
Correction: you do NOT have... (Below threshold)
women, ahahahaahah... (Below threshold)
I have that aura. I get the... (Below threshold)
OMG, Power level? OK..... I... (Below threshold)
"We think we can fool women... (Below threshold)
"There's a sense that black... (Below threshold)
Steve, I saw a guy who remi... (Below threshold)
GT I understand where you'r... (Below threshold)
"I have that aura. I get th... (Below threshold)
except I never acted like t... (Below threshold)
Do you really wish to ask m... (Below threshold)
Dragon Ball Z? My other gue... (Below threshold)
Why don't you tell us more ... (Below threshold)
so I was right about the pr... (Below threshold)
This site is going downhill... (Below threshold)
The number of comments on t... (Below threshold)
You probably behave in publ... (Below threshold)
You are wrong about project... (Below threshold)
"I think violence is funny ... (Below threshold)
Hey Steve,Give all t... (Below threshold)
ahaahah. I behave the exact... (Below threshold)
I agree mostly with most of... (Below threshold)
Somehow, I doubt that witho... (Below threshold)
god damn i wish i had someb... (Below threshold)
"Well anyway I have no pain... (Below threshold)
Dave, it has to do with tre... (Below threshold)
I don't really think Steve ... (Below threshold)
"In a totally unrelated mat... (Below threshold)
I can't believe how people ... (Below threshold)
You mean video game playing... (Below threshold)
time stamp? I'm Italian. Th... (Below threshold)
I'm sure you'll understand ... (Below threshold)
"My name is get out of my f... (Below threshold)
Your strategy sounds pretty... (Below threshold)
Just tear a splinter of woo... (Below threshold)
You decide to act like a bi... (Below threshold)
Ahhh. Back in high school ... (Below threshold)
The video isn't available t... (Below threshold)
Disgusting.I've pl... (Below threshold)
Some sanity! Thank you. T... (Below threshold)
ah ah ahYeah, beca... (Below threshold)
anon,I was agreein... (Below threshold)
Bel Kaufman's "Sunday in th... (Below threshold)
I can't see the video, it's... (Below threshold)
late in saying it, but stev... (Below threshold)
The video is from the show ... (Below threshold)
Thanks, thundt!... (Below threshold)
Americans are caught up in ... (Below threshold)
i got dragged by the hair d... (Below threshold)
"Universal agreement: no o... (Below threshold)
Definitely wish I'd gotten ... (Below threshold)
Emassengly I got beat up ,r... (Below threshold)
ON my honeymoon, while we w... (Below threshold)
DD, one of the smartest, si... (Below threshold)
So I thought Louis was pain... (Below threshold)
That's a good story.... (Below threshold)
At this point ther... (Below threshold)